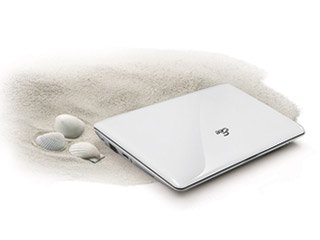 Asus proudly presents one of the thinnest and lightest netbooks of its class; the Asus Eee PC 1005HA VU1X WT 10.1-inch White netbook demonstrates eye-catching style and a high-quality invention. Now you can go anywhere in style with it's less than 3-lbs weight and up to 8.5 hours of battery life. Its sparkling white casing and its great detail will reminds you to a stunning shape of sea shell. Inside of it, you will find a 92%-scaled ergonomic keyboard and multi-touch touchpad that will give you great comfort to type and navigate through content for a prolonged period of time. I can say that this Asus Eee  PC 1005HA stylish netbook is something that is beautiful inside and out.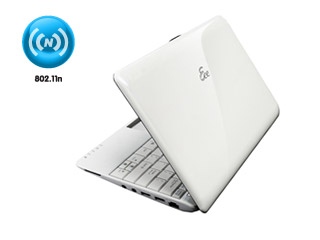 Beside its dazzling look, it offers great connectivity as a lightweight netbook. To keep you stay in touch with friends, family or colleagues, the Asus Eee PC 1005HA VU1X WT 10.1 inch White is enhanced with built-in Wi-Fi 802.11b/g/n to ease your internet access connection. And by using its 0.3MP webcam and Digital Array Mic you can communicate with your contacts in a more personal way.
With the latest generation of LED backlit technology The Asus Eee PC 1005HA VU1X WT 10.1" White provides an ultra-thin, ultra-bright and energy-efficient display. Its brilliant 10.1 inch matte LCD display makes viewing documents and multimedia content more comfortable than ever. You can also display and share your collection of photos and videos with others easily by using the MMC/SD card reader, or its 3 x 2.0 USB ports.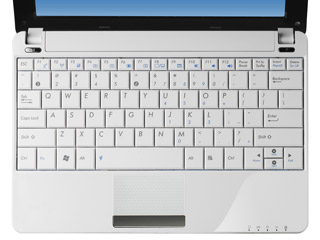 The display isn't the only factor that is energy efficient, the Asus Eee PC 1005HA VU1X WT 10.1" White has great performance, especially for its power management feature. Powered by Intel Atom N270 1.6GHz processor and Asus Super Hybrid Engine, this slim netbook is capable to manage power consumption by providing optimal power depends on the usage needs. Thus you can work longer as being independent from AC power sockets.
Key Features
•    Stunning looks and convenient mobility with seashell design weighing a mere 2.8 lbs
•    Large 10.1-inch LED-backlit screen, ergonomic keyboard and multitouch touchpad for extra comfort and convenience
•    8.5 hours of unplugged all-day computing with ASUS' exclusive Super Hybrid Engine
•    Easy mobile wireless connectivity via built-in Wi-Fi 802.11n (draft 2.4GHz n)
•    ASUS Eee Docking utility to enhance the user experience
•    Built-in webcam and microphone for simple and clear communication
•    Spacious 160GB* HDD storage for convenient storage on-the-go
Find more informations and get special price on Asus Eee PC 1005HA VU1X 10.1 Inch White Netbook here: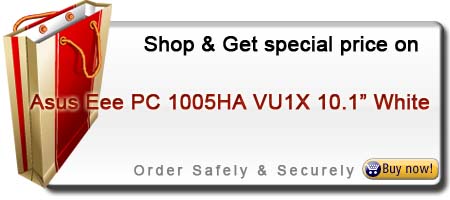 Tags: Asus Eee PC 1005HA, Asus Eee PC 1005HA VU1X WT 10.1" White, Asus Eee PC 1005HA-VU1X 10.1 inch white netbook, Intel Atom N270, lightest netbook, Netbook, netbooks, sea shell, slim netbook, stylish netbook, white netbook